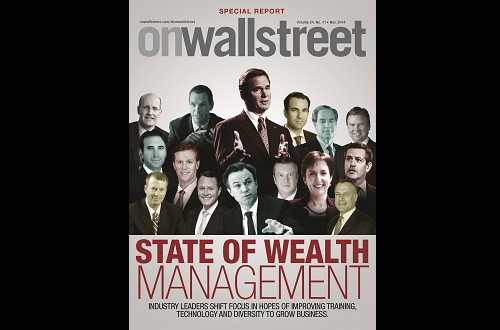 ---
State of Wealth Management
The wealth management industry continues to have trouble diversifying its advisor ranks, and the business' top leaders say it's long past time to make some headway. Making progress, they say, is critical to keep the business thriving.

Here are some of the key comments executives said as part of On Wall Street's special report on the state of wealth management, which focused on the most pressing issues facing the industry.
---
Reflecting a More Diverse World
It's critically important to the future of the business that the industry develop a more diverse workforce, argues Keith Banks, President of U.S. Trust, part of Bank of America. Banks points not only to shifting demographics, but also to the fact that women are controlling more wealth than they once did – a trend that will accelerate as the baby boomer generation ages.

"We live in a diverse world. I think if your workforce does not represent that broader population, then you are out of sync with where the world is. It's just good business sense to better represent that, and it's also the right thing to do," he says.

"I've always tried to create an environment where a person could succeed based on the value that they brought — not their color or gender or sexual orientation. It's about the value they create as an employee. If you can reflect that and demonstrate that in the people you hire and promote, then you're sending a powerful signal that you are a company that values that."