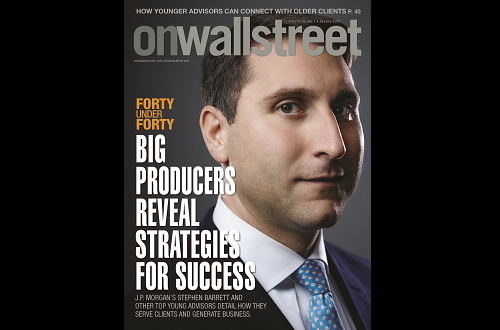 ---
40 Under 40
On Wall Street
annually honors the industry's top 40 advisors under age 40. This year's honorees, ranked by their production, are leaders in their fields. See which advisors ranked numbers 31 to 40, and hear their success stories.
Later this month,
On Wall Street
will also unveil the top 10 advisors under age 40 from regional firms. --
On Wall Street Staff
To read the full story, click
here
. To read a single-page version, click
here
.
---
No. 40: Josef Najar
Firm: Credit Suisse
Production: $2.877 million
AUM: $344 million
Age: 35

Since he started as a financial advisor, Josef Najar has "focused on a narrow investment philosophy."
His mantra is "cash flow and dividends," the New York-based financial advisor at Credit Suisse says.
Given the recessionary environment shortly after he began in 2007, Najar's approach made sense.
"Our clients otherwise would have been their own worst enemy because they would have sold at the bottom of the market," he says.
But because Najar could point during that period to dividends, which were going up, he calmed clients. When stock prices rebounded, clients benefited and stayed with him.
With the subsequent rise of the Dow Jones Industrial Average, Najar hasn't forsaken his "dividends matter" theme because it still works, he says.
Najar also builds his book by helping his clients with financial planning, not directly related to investing their portfolio with him. He even helps some clients, many of whom own companies either in the real estate or shipping industries, connect with other investment banks if his own isn't providing underwriting services.
Najar offers those extra services free of charge because he knows that kind of guidance, given generously, pays off when his clients sell a company or otherwise have a liquidity event.
"You have to be hanging around the hoop to get the ball passed to you. You have to have discussions that don't necessarily have immediate revenues attached to them," Najar says.

Image: Josef Najar